Op maandag 23 december 2019 zal de DWCA haar eerste kampioenschapsclubmatch (met dubbel CAC*) houden in Dog Center te Kerkwijk. De dag na de Kerstwinner tentoonstelling. Keurmeester deze dag is dhr. Jan Ebels (NL) voor de Welsh Corgi Cardigan en Welsh Corgi Pembroke.
INSCHRIJVINGEN GESLOTEN!
U kunt ook een klasse sponsoren, dit houd in dat u voor de gekozen klasse een leuk cadeau maakt voor de nummers 1 t/m 4. Daarnaast wordt uw kennelnaam of bedrijfsnaam vermeld op de website en in de catalogus.  Wilt u meerdere klassen sponsoren stuur dan even een mail naar secretaris@welshcorgiassociation.nl
Inschrijf tarieven:
Jongste puppyklas en puppy klas:
Per hond 20 euro. (deze tellen niet mee als 1e, 2de, 3de of 4de hond)
Overige klasse:
1e hond 40 euro
2de hond 35 euro
3de hond 30 euro
4de hond 25 euro
5de hond en meer 20 euro.
Extra klasse
Koppelklasse 5 euro
Nakomelingenklasse 5 euro
Junior handling  gratis
Peewee handling  gratis
Als u lid bent van de DWCA krijgt u voor elke ingeschreven hond 5 euro korting.
*ovb van voldoende inschrijvingen
Championshipclubmatch 2019
On Monday, December 23, 2019, the DWCA will hold its first championship club match (with double CAC *) at Dog Center in Kerkwijk. The day after the Christmas Winner show. Judge this day is mr. Jan Ebels (NL) for the Welsh Corgi Cardigan and Welsh Corgi Pembroke.
ENTRIES CLOSED!
You can also sponsor a class, which means that for the chosen class you make a nice gift for the numbers 1 to 4. In addition, your kennel name or company name will be mentioned on the website and in the catalog. If you want to sponsor multiple classes, please send an email to secretaris@welshcorgiassociation.nl
Registration rates:
Minor puppy class and puppy class:
20 euros per dog. (these do not count as 1st, 2nd, 3rd or 4th dog)
Other class:
1st dog 40 euros
2nd dog 35 euros
3rd dog 30 euros
4th dog 25 euros
5th dog and more 20 euros.
Extra class
Couple class 5 euros
Offspring class 5 euros
Junior handling free
Peewee handling free
If you are a member of the DWCA you will receive a 5 euro discount for each registered dog.
* with sufficient registrations
Over de keurmeester/About the Judge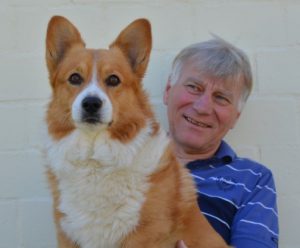 Het is voor mij een eer om de eerste KCM van de Dutch Welsh Corgi  Association te mogen keuren en ik kijk er zeer naar uit. Graag wil ik mij hierna kort bij u introduceren.
In 1972 kwam de eerste Welsh Corgi Pembroke in ons leven. Hij was pet en had een fantastisch karakter. Hij werd slechts 5 jaar oud, maar hij maakte me verknocht aan dit geweldige ras.  Na zijn dood kochten we een nieuwe puppy reu  van een bekende fokker. Deze pup groeide op tot een mooie hond en we hebben hem in samenwerking met zijn fokker, succesvol geshowd. We kregen meer en meer interesse in de Corgi's en in de kynologie. We kochten een jaar later een puppy teef met de intentie om ermee te fokken. We registreerden de kennelnaam "of Scarlet Home". We fokten ons eerste nestje in 1980 en we hebben 14 nestjes gefokt in de periode 1980-1994. In deze periode hebben we met succes in binnen- en buitenland geshowd.
In 1980 ben ik begonnen met de opleiding tot keurmeester en ik ben in 1988 geslaagd voor het rasexamen voor de Pembroke en de Cardigan. Daarna heb ik voor meerdere rassen examen gedaan, alle Britse Herdershonden,  de Hollandse Herders, de Nederlandse Schapendoes, de Saarlooswolfhond, de Belgische Herders, de Franse Herdershonden. In 2009 ben ik benoemd tot groepskeurmeester voor de FCI groep 1.  Ik keur ook enkele rassen in FCI groep 5.
It is a honour for me to judge the first specialty of The Dutch Welsh Corgi Association and I'm looking forward to the show. Here a short introduction of myself.
In 1972 came the first Welsh Corgi Pembroke into our life. He was a pet, had a fantastic character, he became only 5 years old, but he made me fell in love with this wonderful breed.
After his death we bought a new male pup from a well known breeder. This pup grew up to a beautiful dog and we were going to show him successful in cooperation with his breeder. We got more and more interested in Pembroke Corgis and in the cynology and we have bought one year later a female pup with the intention to start  breeding. We registered our  kennel under the name "of Scarlet Home". We bred our first litter in 1980 and have bred 14 litters in the period 1980-1994. In this period we showed our dogs successful in Europe
I started the judge educating program in The Netherlands in 1980 and did my first breed test for the Welsh Corgi Pembroke and – Cardigan in 1988. I did more tests, specially for the British pastoral breeds, the Dutch Shepherd Dogs, the Dutch Schapendoes and the Saarlooswolfdog, the Belgian Shepherd Dogs  and the French Shepherd Dogs. Finally I became in 2009 judge for the FCI group 1.
I also judge some breeds in group 5.
Uw keurmeester,
Jan Ebels
| | | | |
| --- | --- | --- | --- |
| Klasse/Class | Sponsored by | Kennel | Website |
| CARDIGAN | | | |
| Dog Minor Puppy Class | Wendy Anadiotis | Grande Sogno | grandesogno.nl |
| Dog Puppy Class | Wendy Anadiotis | Grande Sogno | grandesogno.nl |
| Dog Junior Class | Cindy Gebruers | Covventinea | covventinea.com |
| Dog Intermediate Class | Joke Jansen | Hanlon's Star | hanlonsstar.com |
| Dog Open Class | Joke Jansen | Hanlon's Star | hanlonsstar.com |
| Dog Champion Class | Rachel Dijkhorst-Noij | Waggerland | waggerland.nl |
| Dog Breeders Class | Yvonne Aben | v.d. Bockmühle | |
| Dog Veteran Class | Rachel Dijkhorst-Noij | Waggerland | waggerland.nl |
| Bitch Minor Puppy Class | Wendy Anadiotis | Grande Sogno | grandesogno.nl |
| Bitch Puppy Class | Wendy Anadiotis | Grande Sogno | grandesogno.nl |
| Bitch Junior Class | Cindy Gebruers | Covventinea | covventinea.com |
| Bitch Intermediate Class | Joke Jansen | Hanlon's Star | hanlonsstar.com |
| Bitch Open Class | Joke Jansen | Hanlon's Star | hanlonsstar.com |
| Bitch Champion Class | Rachel Dijkhorst-Noij | Waggerland | waggerland.nl |
| Bitch Breeders Class | Jeannette Schrijver | Milligenhof | milligenhof.nl |
| Bitch Veteran Class | Rachel Dijkhorst-Noij | Waggerland | waggerland.nl |
| | | | |
| PEMBROKE | | | |
| Dog Minor Puppy Class | Maikel & Wendy Koot | Limbonsnest | limbonsnest.nl |
| Dog Puppy Class | Yvonne Lewis | Lintelo | |
| Dog Junior Class | Maikel & Wendy Koot | Limbonsnest | limbonsnest.nl |
| Dog Intermediate Class | Danny Reinkehr | Daredevil's | |
| Dog Open Class | | | |
| Dog Champion Class | Gertruud & John Koot | Limbonsnest | limbonsnest.nl |
| Dog Breeders Class | Yvonne Aben | v.d. Bockmühle | |
| Dog Veteran Class | Elisabeth Camboni | Des Contamines | contamines.chiens-de-france.com |
| Bitch Minor Puppy Class | Maikel & Wendy Koot | Limbonsnest | limbonsnest.nl |
| Bitch Puppy Class | Yvonne Lewis | Lintelo | |
| Bitch Junior Class | Maikel & Wendy Koot | Limbonsnest | limbonsnest.nl |
| Bitch Intermediate Class | Danny Reinkehr | Daredevil's | |
| Bitch Open Class | | | |
| Bitch Champion Class | | | |
| Bitch Breeders Class | Maikel & Wendy Koot | Limbonsnest | limbonsnest.nl |
| Bitch Veteran Class | Gertruud & John Koot | Limbonsnest | limbonsnest.nl |